15 Tips to Improve Your Email Program in 2016 (3 of 3)
3:04 pm
admin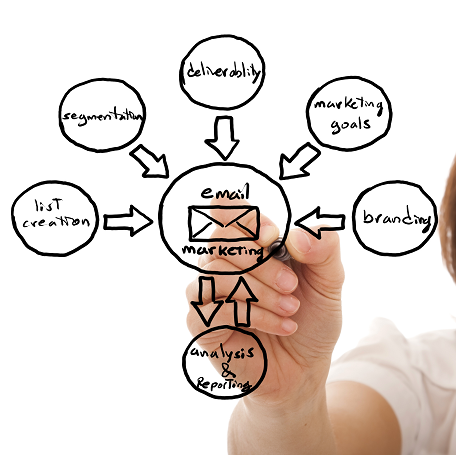 This is part 3 of our 3 part series is designed to help you improve your email marketing program over the next 90 days. The key is to implement small changes on a regular basis to test and track each change in your program.
11. Use swipe as necessary.
Keep a file of all the marketing samples that grab your attention, entice you to action, etc. Industry specific swipe is key to make sure you're not missing out on any hot topics or current events you might have overlooked.
12. Integrate social media effectively.
Get proactive with social media. Connect with people that mention you on Facebook, Twitter or LinkedIn. Look at synergies between your businesses. Include links to social media properties in all of your emails and links to your optin forms in all social media profiles. Send out a handful of updates each week inviting the optin.
13. Test and tweak.
Constantly test your campaigns and make minor modifications. Even for campaigns that are working, never stop testing different variables against the control.
14. Use smarter automation.
When people don't open a particular campaign or respond to an offer, follow up with automated sequences, which can increase response rates by as much as 30-40%. Change subject lines. Adjust message content. Send testimonials and reviews. Change up the messaging to see what kinds of bumps in conversions you can see.
15. Create an email marketing calendar.
We're nearing the end of quarter 1, but there's still time to get a calendar together for the rest of the year, taking into account seasonal events, holidays, launches and more. Be sure to include promotions that highlight your company and team as well.
For over a decade Heather Seitz used email marketing to build successful companies and had to solve the biggest barrier to consistent profitability: deliverability. Today she is the Co-Founder and CEO of Email Delivered.
Check out the first 15 Tips to Improve Your Email Program in 2016 (1 of 3)  here http://www.emaildelivered.com/improve-your-email-program-part-1. Remember to sign up for the FREE Email Delivered Pulse newsletter for articles, tips, and recommended resources for email marketers.
Revealed:
How to Get Your Emails to the Inbox
If you want to get more of your emails to the inbox, you need to know the secrets that the Email Service Providers AREN'T willing to tell you. For a limited time, I'm sharing some select tips that top Internet Marketers know... for FREE.
Here's what you'll get right now...
The How to Guide for getting your emails back to the inbox.
How to find (and improve) your email "reputation" (how the ISPs see you).
5 Email KILLERS that your email service provider is purposely hiding from you.
These resources are for members-only. Get your VIP pass now!
100% privacy, I will never spam you!
March 23, 2016
Subscribe
Subscribe to our e-mail newsletter to receive updates.