3 List Building Strategies You Should Avoid at All Costs
11:14 am
admin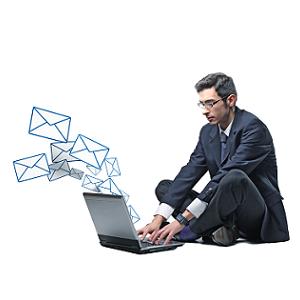 There is no substitute to properly building your list, but there are lots of list building strategies. This translates into higher deliverability, which ultimately means MORE MONEY in your pocket and a bigger bottom line.
Unfortunately, in efforts to build a list quickly, many business owners and marketers will often look for "shortcuts". There are several shortcuts that are definite "No-No's" and will most certainly guarantee that you run into MAJOR trouble with the ISPs and your email provider.
These Include:
Website Spidering/Scraping
Purchasing retail marketing media in "kit" form, guaranteed or otherwise
Randomization and/or Dictionary Probing
Website Spidering/Scraping
This method may also be described as spidering, scraping, or bot harvesting! Regardless of what you want to call it, it is an unacceptable method of building an email list. PERIOD.
In its simplest form, this involves automated (also referred to as robotic, hence the origin of the word "bot") scanning of websites in order to identify patterns that resemble email addresses.
The "spider" analogy stems from the bot's only method of navigation, which is to follow hyperlinks on a website in order to get to new, undiscovered hosts.
Some might argue that a website owner has voluntarily provided contact information, but has he really provided it to you?
If you were to look up Dr. Crayton in the telephone directory and drop him a line, would it be different than if you called everybody in the phone book until you eventually reached the doctor?
Keep in mind your reaction to the telemarketer described earlier in this chapter! The fact is, you would not be the first to contact the recipient whose address was gleaned from the owner's website - not even by a long shot!
Website addresses are usually inundated with junk mail, and as a result, often have the most stringent content-filtering, a high signal-to-noise ratio, and worse still, an overall heightened owner sensitivity to unsolicited contact.
These are not good prospects!
Purchasing a Retail Marketing List
When we're talking about "buying a list", we're referring to lists that are pre-compiled and neatly bundled for sale.
First off, these are not necessarily "all" bad and aren't condemned across the board. There are legitimate and professionally assembled databases of customers, often acquired via exhaustive demographic data collection. However, the valid – quality – lists such as these are often quite difficult to find, and undoubtedly expensive.
The types of lists that are generally considered bad across the board are the "starter" email marketer kits.
These are found in most retail electronics stores where software is sold, and even recently featured in "infomercials". A colorful package (or actor) may instill some false confidence in the product, but sadly the email addresses contained on most of these are unusable for multiple reasons.
Most are invalid, defunct/abandoned, or simply have suffered the same fate as the "scraped" addresses referred to in the previous section.
True, your message may not be the prototypical junk that the recipient receives from the multiple other unscrupulous marketers who purchased the CD before you did, but do you really want to compete with them for the attention of folks who have no interest in either of you?
Randomization and/or Dictionary Probing
And finally, the surest way to guarantee that you run into trouble with the ISPs (and probably your Internet Mail server provider as well) is the dictionary method.
This is the technique of "guessing" at valid email addresses, and then simply sending mail to them in order to confirm their existence.
The guesses are often based on a list (or dictionary) of common first and last names, which the mailer software will go through and combine in various predetermined manners.
Internet mail servers and system administrators can easily detect these due to the volume of attempts required for every successful identification. In fact, many modern email servers have built-in sensors to detect this kind of activity, and will send alarms accordingly. In the vast majority of dictionary mailings, the sender is permanently blocked before ever making it through a fraction of the total iterations.
Avoid this at all costs!
Aside from the fact that these tactics are unscrupulous, they're also shortsighted. Even if your first campaign squeaks through, the chances of getting "caught" by the ISPs and blacklisted is virtually guaranteed. It's only a matter of time. Based on these tactics, you'll have little to defend yourself with and will wind up getting completely blocked – even if a portion of your list is valid and has been acquired through generally acceptable methods.
Author: Heather Seitz
Attention Readers, Publishers, Editors, Bloggers, and Marketers: You may republish or syndicate this article without any charge. The only thing I ask is that you keep the newsletters, article, or blog post exactly as it was written and formatted, with no changes. You must also include full publication attribution and back links as indicated.
This information has been provided by http://www.EmailDelivered.com and written by Heather Seitz. To find more about list building strategies, visit http://www.emaildelivered.com/email-delivered/3-list-building-strategies-you-should-avoid-at-all-costs/. Don't forget to sign up for the EmailDelivered Pulse newsletter for articles, tips, and recommended resources related to email marketing and email deliverability.
Revealed:
How to Get Your Emails to the Inbox
If you want to get more of your emails to the inbox, you need to know the secrets that the Email Service Providers AREN'T willing to tell you. For a limited time, I'm sharing some select tips that top Internet Marketers know... for FREE.
Here's what you'll get right now...
The How to Guide for getting your emails back to the inbox.
How to find (and improve) your email "reputation" (how the ISPs see you).
5 Email KILLERS that your email service provider is purposely hiding from you.
These resources are for members-only. Get your VIP pass now!
100% privacy, I will never spam you!
April 20, 2011
Subscribe
Subscribe to our e-mail newsletter to receive updates.