Email Reputation: IP vs. Domain Reputation
4:35 pm
admin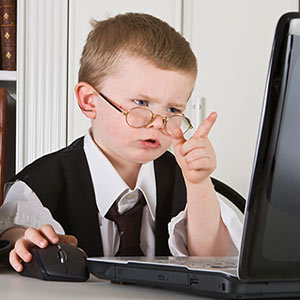 Email reputation determines whether or not your email messages will make it to the inbox or wind up in the junk folder (or even blocked at the source).
There are two components that make up your email reputation. These include: IP reputation and domain reputation.
Both of these are important factors in determining whether or not your emails will make it to the inbox and need to be fully understood as they relate to email inbox placement.
In the old days of email marketing, it was enough to have a good IP 'reputation,' but sending domains are playing a larger role each and every day. So let's talk about each of these email reputation factors and what they mean to your email program.
IP Reputation
Many Internet marketers and online business owner are familiar with the concept of "IP Reputation". This is sort of like a credit score for your IP. There are services like Sender Score that will give you a numeric score based on the data about your email program reported to their service.
This "score" provides you a general indication of what's going on with your email program. The higher the score, the cleaner your overall program. This means that you'll generally have lower complaints, a low volume of bad addresses, no spam traps, etc.
If you're score is over 90, you'll see higher inbox placement rates than if your score is in the 70s or 80s, or lower.
But… the "score" that you can find using such services only tells a small part of the story. Each ISP has it's own algorithms and metrics that they use to determine whether or not your IP has a good quality with THEM.
For example, you may have a low complaint volume across the board. Using a 3rd party reporting tool, you might see low complaints. However, you may have a high percentage of your complaints coming from a single ISP. For instance, AOL or Hotmail may view your IP reputation as poor, even when you have a "score" of 95.
AOL has it's OWN IP reputation monitor that rates your reputation on a scale of "Bad" "Neutral" or "Good". If you have a "bad" reputation within AOL's internal scoring, then you'll find that your emails are often sent to the junk folder or blocked entirely from AOL.
It's important to use a variety of tools to evaluate your overall IP reputation and make changes as necessary to ensure the best possible IP reputation across the board, with each of the ISPs.
Having said that, IP reputation alone is not enough to ensure inbox placement.
Domain Reputation
While some ISPs rely more on IP reputation, others rely more on the domain.
Keep in mind, the domain reputation trickles down to any domains used in the email message. This includes domains in the message copy as well as domains used in the headers, footers, and even where your images are hosted.
But, for the purposes of this discussion, we're going to be referring specifically to the domain that shows up in the headers, specifically the return-path domain.
ISPs, such as Gmail, put much more weight on the sending domain. In other words, if you send to a lot of bad addresses, receive a lot of complaints, etc., then Gmail may decide your domain is the problem.
Simply changing the IP address won't resolve the problem. You'd actually need to set up a whole new domain and build reputation for the new domain.
The reason ISPs are shifting more to the domain versus solely IP is that it's relatively simple to change IP addresses, but not so easy to change domains due to all the data that needs to be moved.
In addition, domain reputation is much harder to detect and diagnose because the ISPs use their own data to determine this and don't typically make this information public (or available for you to access).
How Do I Know If There's A Problem?
How do you know if your IP reputation or your domain reputation is impacting whether or not your emails inbox…
The first sign is often that your email messages are consistently winding up in the junk folder for one or more of the major ISPs. If all of your emails are going to the spam folder, then it's possible the issue is content related or something related to your email infrastructure.
So the first thing you'll want to do is an evaluation of your overall email program.
It's not simply enough to change your email program and get a new domain and new IPs (plus, it requires starting from scratch, setting things up all over again, and a new warm up). This is costly and time consuming and generally will only solve the problem for the short term, if at all.
Although this IS possible as a last resort, the underlying email practices need to be evaluated and changed before taking this step.
NOTE: If you are using a shared IP (ESP service), you will not be able to change the IP address or sending domain.
Having said that, let's say that you do notice a problem with regard to getting your emails to inbox and go through the steps to get you back to the inbox.
Clean up any underlying problems FIRST.
You'll want to work through any underlying problems hurting your email program and get those cleared up before reworking your program. In other words, you want to do the following before considering the time and expense of setting things up all over again:
Evaluate complaints (why you're getting them, campaigns that generate them most frequently, etc.)
Look at list quality (list building practices, list hygiene, engagement, etc.)
Evaluate your content. Is the content causing a problem? Is your HTML formatting correct? Are words, links or patterns in your messaging causing problems?
Look at your IP reputation. If your IP doesn't have significant issues, then you can probably salvage the IP address (you don't want to keep hopping from IP to IP address). And you don't want to obsess over your score. Again, it fluctuates even within a single day, and it's really just an indicator of overall behavior.
Check your domain reputation.
If you have a good reputation, but see that your email messages are still going to the spam folder, then you will want to first try to resolve the underlying issue.
If you can't resolve the issue, you may consider setting up a new domain from which to send. But this really should be a last resort and once you're certain that you've resolved the underlying problem moving forward.
Author: Heather Seitz
Attention Readers, Publishers, Editors, Bloggers, and Marketers: You may republish or syndicate this article without any charge. The only thing I ask is that you keep the newsletter article or blog post exactly as it was written and formatted, with no changes. You must also include full publication attribution and back links as indicated. This information has been provided by http://www.EmailDelivered.com and written by Heather Seitz.
For over a decade Heather Seitz used email marketing to build successful companies and had to solve the biggest barrier to consistent profitability: deliverability. Today she is the Co-Founder and CEO of Email Delivered.
For more information on how your IP address and Domain can dramatically influence your response rates and profitability, click here http://www.emaildelivered.com/email-reputation-ip-domain-reputation/. Remember to sign up for the FREE Email Delivered Pulse newsletter for articles, tips, and recommended resources for email marketers.
Revealed:
How to Get Your Emails to the Inbox
If you want to get more of your emails to the inbox, you need to know the secrets that the Email Service Providers AREN'T willing to tell you. For a limited time, I'm sharing some select tips that top Internet Marketers know... for FREE.
Here's what you'll get right now...
The How to Guide for getting your emails back to the inbox.
How to find (and improve) your email "reputation" (how the ISPs see you).
5 Email KILLERS that your email service provider is purposely hiding from you.
These resources are for members-only. Get your VIP pass now!
100% privacy, I will never spam you!
June 2, 2014
Subscribe
Subscribe to our e-mail newsletter to receive updates.