Spam Traps vs. Complaints vs. Spam Reports
3:26 pm
admin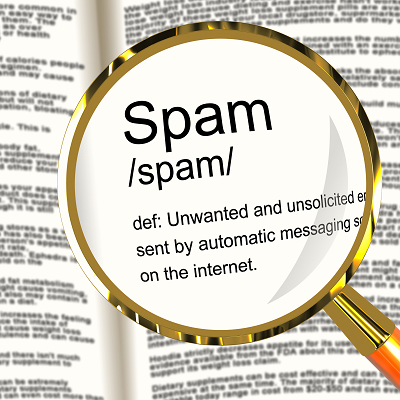 This week, wanted to clarify a few things surrounding "spam" (and hopefully this topic doesn't find this message IN the junk folder!)
Spam Traps:
We're referring here to pristine traps... These are set by ISPs and various providers to find people (and companies) that are not following best practices with regard to list building. You can't get a "list" of these traps and they can definitely impact your sender reputation for the bad. Depending on the service, it'll generally report the number of unique spam trap hits in the previous 7 days. In other words, if you have a trap on your address and keep mailing, it's already been noted, so to speak, and it won't show up again.
Complaints:
These are when individual subscribers click the spam button in their email software. Depending on which client they're using, a message will come back that has the data necessary to remove that subscriber. These are subscriber-based. When you have a large number of complaints, this can impact the reputation of your IP and your sending domain.
Spam Reports:
These are when subscribers go out of their way to report your messages to 3rd party companies like Spamcop, for example. Depending on the company, they may or may not provide the subscriber's email address. These can lead to blocks, potential issues with the IP providers, and overall issues with your account. While these are rare, they should be taken seriously when they do arise and addressed immediately. It should be suppressed and removed from all future mail immediately in cases where the subscriber's email is available.
For over a decade Heather Seitz used email marketing to build successful companies and had to solve the biggest barrier to consistent profitability: deliverability. Today, she is the Co-Founder and CEO of Email Delivered.
For more information on about spam traps, complaints and spam reports, visit http://www.emaildelivered.com/spam-traps-vs-complaints-vs-spam-reports. Remember to sign up for the FREE Email Delivered Pulse newsletter for articles, tips, and recommended resources for email marketers.
Revealed:
How to Get Your Emails to the Inbox
If you want to get more of your emails to the inbox, you need to know the secrets that the Email Service Providers AREN'T willing to tell you. For a limited time, I'm sharing some select tips that top Internet Marketers know... for FREE.
Here's what you'll get right now...
The How to Guide for getting your emails back to the inbox.
How to find (and improve) your email "reputation" (how the ISPs see you).
5 Email KILLERS that your email service provider is purposely hiding from you.
These resources are for members-only. Get your VIP pass now!
100% privacy, I will never spam you!
May 3, 2017
Subscribe
Subscribe to our e-mail newsletter to receive updates.